Disney
How to beat the apocalyptic heat at Disneyland Resort
Infants screaming. Eyes stinging. Old people parking their scooters in the middle of stores right in front of where you want to look. Rides shutting down for hours. The smell of roasting meat in the air.
I know—sounds like the apocalypse. But in reality, this is Disneyland on a hot day.
My god.
Anaheim is a generally temperate place, but sometimes it can get real hizzy up in there. In fact, on opening day in 1955 it reached an unruly and unusually high 101°.
Having just returned from a trip to Disneyland Resort (DLR) in a recent heatwave where at one point my phone told me it was 108°(!!), I've seen things.
Here's what you need to know about surviving Disneyland and Disney California Adventure when the temp is flexing itself and straight up punishing you. To make things easier I've broken these tips up by park, leaving some general tips for the end.
There are a lot of tips out there for surviving the heat at Disneyland, and at some point they all start feeling the same—there will be some repeat here as well, but I'll pepper in my personal experience and a few contrarion opinions.
If you'll be visiting DLR soon and the needle is pushing anywhere in the 90s or 100° or even higher (you poor soul), here's what I've learned.
Should I go when it's hot?
This is the bazillion dollar question, isn't it? We agonized over whether we should push our trip back or simply cancel it altogether and regroup when we could.
Here's the deal: At a certain point there's really not much you can do to escape the heat. Sorry.
If it's low to even mid-90s and you're prepared, you'll get through it and of course you'll have a great time. But when it's pushing triple digits, there will simply be large chunks of the day that are really, really rough.
Our schedule made it very difficult to change things up, so we decided to forge ahead—and we had an awesome time. But it was a way different trip than in the past, and by day two we were making promises to ourselves to NEVER do it again, even if it meant rescheduling.
If you do have the flexibility, I'd say it's honestly worth waiting, but just be aware of the tradeoffs around park hours or other seasonal happenings. Plus, there's the fact another heatwave can easily hit whenever you do come back. Earlier this year it pushed near 90° in February, so, ya know.
But for some rescheduling just isn't an option. If you've been planning for months and months and this is your one shot, just start preparing and don't look back.
Beating the apocalyptic heat at Disney California Adventure (DCA)
DCA is definitely a harder park for finding relief from those ungodly temps. It's designed to mostly be an outdoor experience. That said, there are some things you can do.
Philharmagic
No, it doesn't have cool '80s music or any loop de loops, but this is probably your best bet for an easy, fun, reliable break from scorching heat at DCA.
Philharmagic is located in Hollywood Studios just to the left of the roundabout when you enter the park—next to the best-named food stand of all time, Award Weiners. It's a little tucked away but as soon as you get near the entrance you're hit with a blast of ice-cold air.
The show is altogether about 18 minutes long, so between waiting in the lobby and the show itself, it's easy to get a good half hour of cold downtime. Plus, it's a really fun show and the 3D gimmicks and a little bit of 4D action make it more fun than it really has any right to be.
And even on a busy, super hot day, it never seems to get too busy. There's plenty of room for all, and if you want you can repeat it as often as you like until temps start to drop for the evening.
Animation building
Just across the street from Philharmagic is a large, barn-like building that features several attractions that can be enjoyed without stepping a single foot back into the fiery pits of Hades.
Animation Academy, Turtle Talk with Crush, and Sorcerer's Workshop all offer a respite from the heat, meaning you can easily spend an hour and a half—which could cover the hottest hours of the day—in this cool structure.
It's also a great spot if you just need to get some cool air and sit on the floor for a little while. With very few of these types of areas at DCA, this is a treasure on those hot, hot days.
The Little Mermaid
You'll see this on a lot of "beat the heat" lists, and it's true, it's a great way to sit, rest a little, and get in a fun dark ride. The A/C is cranked and at multiple points throughout the ride, you're hit with an extra blast of cold air.
On warmer days, the line may get a little bit longer and you'll have to wait outside for a bit, but it's one of those rides where the line pretty much keeps moving, and even outside it's mostly shaded.
Grizzly River Run? Maybe
When it's hot, your first thought may be that getting wet is a great idea. And indeed, it is! But like 12,000 other people also have that same exact thought at the same exact time.
Grizzly is probably the most reliable place to get a splash across all of Disneyland Resort, but it gets busy on hot days, stretching to an hour or more for wait time. An hour might be fine for some under normal circumstances, but not when it's sweltering and you're snaking through a crowded line (they had to set up extra ropes when I was there to accommodate).
In general, there is some blissful shade and mist (plus churros) in the Grizzly Peak area. It doesn't hurt to check out the line and see how rough it looks, or use a Genie+ on this one early in the day to start out feeling good.
Soarin'
Just around the corner from Grizzly River Run, Soarin' is a solid choice when feels as fire is reigning upon you.
On quieter days, it tends to have shorter Stand-by times where the entire wait is inside with pleasant A/C. Then you have the pre-boarding line and video, loading and unloading, and nearly 5 minutes of ride time.
By the time it's all said and done, you've been literally chillin' for a good 20 to 30 minutes. Plus, the ride kicks ass and literally blows cool air on you the entire time.
Soarin' is also typically a good one to Genie+ if you've upgraded—the timeslots are usually close and offer a quick reprieve.
Even in Standy-by, misters have been spotted on warmer days and it's mostly shaded. Give it a check depending on how hot it gets.
Smokejumpers Grill
Next to Soarin', Smokejumpers Grill offers burgers, sandwiches, and some of the only indoor dining in all of DCA. It's a great spot to grab a bite and maybe a cold beer while you pretend you're among the redwoods.
But be warned: when it hits the 90s or higher, ANY indoor dining space becomes an extreme commodity. If it's a busier day? Get ready for battle.
Carthay Lounge reservation
Even on the hottest and busiest days of my recent trip, Carthay Circle Lounge (always listed with "Alfresco Dining" in the app) had reservations available, even for the same day in most cases.
Still, get your reservation in early and mention that you want an inside table both when you make the reservation and when you check in. If you need to wait for one, that's fine, it won't be long with your reservation.
The seating is very loungelike here and also very comfortable. It's quite cool and the food is solid.
There is a patio as well, which might be OK when temps are closer to the high 80s or maybe juuuuust pushing 90. It's fully shaded, but you're on the same concrete that has been getting hammered all day by sun and pain and people's shoes melting into it.
Go ahead and grab a reso here when you're in planning mode, maybe a time for the hotter part of the day so you can hide out, and you can always drop it later if you end up with milder temperatures for your visit.
Finding ice at DCA
All cast members are allegedly required to know where the nearest water refill station is, and even if that's a lie they've never failed me.
BUT, this is not cold water. It's not hot either but on the hottest days, it doesn't offer much relief unless you're dumping it down your pants (which is not a terrible idea, frankly).
So, you gotta know where to get ice. There are two main spots in DCA for ice:
Pym Test Kitchen: There's no indoor seating here, but you can drop inside to grab some ice and cold water from the soda fountain. Although, sometimes they do run out of ice when it's one of those hellish, absolutely horrifying type of heat days.
Boardwalk Pizza & Pasta: Again, no inside seating here, but there are soda fountains and this area tends to be less crowded. However, it's less crowded because there is no escaping the heat. There's some shade, but being at the far end of the pier it's not worth spending extra time walking here—especially if you're coming the long way around from the Toy Story Mania area.
If you're stranded out in Paradise Pier, there's not a lot you can do. But, any of the quick service restaurants can give you a cup of ice or a cup of ice water even if it's just a walkup. Carts, however, won't have that for you (although they'll probably at least have cold water to buy).
Utilize the Radiator Racers Single Rider line
Cars Land is an ungodly place when it's 103°.
It's nothing but asphalt and cement absorbing heat and spitting it back in your sweaty, dumbfounded, face. Because when it's that hot, we all just get stupid.
And it's also inevitably one of the longest, if not the longest, Stand-by waits in all of DLR. For good reason: it's an awesome ride. The ride itself is mostly inside, and on the hottest of days, I did spot some serious misters going in the line—but not until you're close to the end.
Going Stand-by or upgrading for an Individual Lightning Lane are fools games; instead, head into the Single Rider entrance. I literally walked on using this method.
Single Rider can get busier when Stand-by is especially long, but I don't know if I've ever waited longer than 15 minutes—compared to 120 minutes in Stand-by.
But I wouldn't count Racers as a heat break. One of the few places you can actually, truly get a blast of cold A/C in Cars Land is the entrance to Luigi's Rollickin' Roadsters. I mean, definitely don't ride it when that's hot, but just go stand in there for a few minutes and take a breath.
There was one night that they closed the Single Rider line for Racers, which was super weird, but apparently it can happen. That's the only time it's ever happened to me though.
Avengers Super Store
For some dumb reason, this is listed as "Super Store Featuring Avengers Campus" across the app and Disney websites. But otherwise, this is a great place to come get a dose of cool air.
It's a huge building, and it basically also serves as the home base for all Avengers merch in the parks. If they have it anywhere else, they'll also have it here. So you can stop in to take a breather and cool down, but also knock out your Marvel and Avengers shopping for the trip.
You can also buy an $8,000 Iron Man statue, if that's your thing.
It's a bit tucked away, just next to the Monsters Inc. ride in Hollywood Land.
Utilize Single Rider at WEB SLINGERS
Why do they put WEB SLINGERS in ALL CAPS? Beats me, go ask the Mouse.
That said, WEB SLINGERS has come down a bit from the high levels of interest following its recent opening. It's still one of the newest rides in either park at Disneyland Resort, but you can now find reasonable wait times.
This line is stupid if temps are hitting 100°. It's a ton of snaking because, well, there wasn't a ton of room for them to just build an entirely new land in the middle of DCA.
BUT, it's not bad if it's low 90s and the wait time is 30 minutes or less. They set up some huge industrial fans when I was there and you actually get into the pre-show area pretty quickly (took me about 12 minutes on a quieter day).
But even better is the Single Rider line if you're cool with crushing a 7-year-old stranger's spirit with your much higher score. Once you're inside, it's cold and you get some blasts of air.
Guardians of the Galaxy - Mission: BREAKOUT!
Again with the text formatting? Really WALT??
The Guardians ride does offer a decent respite from the heat since you're inside for a good amount of time between pre-show and lift loading. But it's really only worth it if the line is short or you've used a Genie+ spot on it.
Otherwise, you're mostly outside, there's a lot of standing and a very short amount of sitting. Plus, sometimes you're walking upstairs, which is just mean when you're that hot.
That said, it's one of my favorite rides and spits you right into the chilly Collector's Warehouse store, so just be smart about when and how you ride this one.
Tips for beating the apocalyptic heat at Disneyland Park
Across the death sea of scorching hot pavement from DCA is the OG Disneyland.
DL has more overall options for finding some shade, indoor dining, and general relief from the fires of Mordor as they descend upon your soul.
Tiki Room
One of the best choices I made was to take a couple of breaks at Tiki Room, with Dole Whip in hand as the COVID regulations for eating inside are now lifted. It truly cools you down from top to bottom.
You can pop out and head to the Adventureland Bazaar for a little more relief, although with its open doors it gets warm once triple digits hit. Or, hell, head right back in for another show.
The only downside here is waiting outside where for once the pre-show with the different gods seems downright infuriating and wasteful. Just. Let. Us. Into. The. A/C.
Indiana Jones — check the outside line
Skip Jungle Cruise on those hot days, but do check out the line for Indiana Jones Adventure (and no, Disney, I'm not putting the ™ in there just to satisfy your ludicrous text formatting!).
Take note of how long the outside line is for Stand-by. It's pretty much all shaded, but you still don't want to be out in the heat for too long. If there are 50 or so people, you're golden.
And if you grab a Lightning Lane on Genie+? Even better, as you'll head right inside the Temple of the Eye, where pretty much the rest of the line is air-conditioned. Plus, killer ride that is always on everyone's must-do-at-least-once list.
Pirates of the Caribbean — only when the line is short or at night
With 15 minutes (!) of ride time, and essentially happening all underground, Pirates is indeed a great choice for beating the heat. But the line is mostly outdoors, winding through concrete that is not shaded during the hottest parts of the afternoon.
I saw this one on a lot of lists for beating the heat at Disneyland, but when I looked at a 25-minute line, I was all like, no thank you.
So if you hit a time where it's 15 minutes or less? That could be tolerable, but I'd still aim for either 10 minutes or less wait time or save it for nighttime.
Make a reservation at Blue Bayou, if you can
Last time I went to Disneyland I got reservations for basically anything I wanted like I was Kim Kardashian at … well, Disneyland.
But this time? It was straight-up war. And Blue Bayou was second only to Oga's Cantina in terms of difficulty getting in. So be ready to book yours as soon as reservations open up—you can always dump it if you decide you don't need it.
Also, take time to check in even just the day before. I was able to nab one just a day out thanks to some schmuck who probably bailed like a coward just because it was going to be 102° that day. Suckaaa!
It's also worth checking in with the host just to see if they have a walkup. Even with the app walkup list full, we saw a party of 6 get seated almost immediately.
All that said, if you can get in, this is one of the best places to take a break from the heat, plus super good food, plus you're inside the frickin' Pirates ride. It's cool in multiple ways, takes a good amount of time, you can grab a cold beer or a mint julep with actual rum in it, and don your best southern accent, ya'll.
Haunted Mansion — only with a short line or Genie+
I think I felt the hottest when we used our Genie+ spot on Haunted Mansion around 1 or so in the afternoon. It was in the high 90s, and even though we were in Lightning Lane, the ride stopped for maybe 10 minutes and we just stood there, and I watched as my child turned into nothing more than a blue flame and then exploded.
At least that's what it felt like. This line is BRUTAL in the heat. Any other time, I'm like, hey an hour for Haunted Mansion? Hell yeah! But in this heat, it was stupid. They set up some umbrellas where they could, but it didn't do anything. It's just concrete and heat.
Thankfully, once the line got moving, I had a good amount of time out of the heat between the pre-show and the ride itself, which lasts about 9 minutes.
But that line is NOT worth it when it's baking outside. Even with my Lightning Lane entrance, it was awful and I will never, ever, ever, ever forget it. Until next time I go and want to ride it, of course.
And shoutout to all the cast members wearing the Haunted Mansion costumes and just making it all happen out there during those hot hours.
Splash Mountain — Genie+ only!
I hate exclamation points, but this is one of the few times it's warranted.
There is absolutely no reason for you to go Stand-by at Splash Mountain in the middle of the day when it's hot as heyall. The line gets ridiculously long (I saw up to 120 minutes) and it's not a nice, cooled, inside line. It's crowded and hot and everyone hates everything in there.
And I get it — water ride, right? You'll get a splash, right?
First off, you only really get meaningfully wet if you're in the first three seats or there are only children in front of you. Otherwise, some big dude blocks the damn water.
You could rope-drop it or hit it early in the day just to get it in and get a little bit of water to start the day. Otherwise, Genie+ is the ONLY option — or at night when the line dies down, which during a heatwave can still feel quite nice.
Winnie the Pooh
Winnie the Pooh is fine. I mean … it's fine.
It's usually a 5-minute wait, so it's an option for a quick cool down if Splash Mountain is too long or you've just come out of it. But if it gets ANY longer than that, you're outside in the sun for a 3-minute ride through a bear's weird dream.
Better option: hit Pooh Corner and grab a treat.
Galaxy's Edge is really, really tough, outside of Smuggler's Run
Galaxy's Edge is one of the greatest accomplishments in the history of mankind. It's that simple.
But when it's over 100°, it sort of sucks to be there. It does feel pretty authentic to what it must be like on some rando planet in the Outer Rim, but that doesn't provide much solace.
The shops in between the Rise of the Resistance area and where the Millennium Falcon resides are nicely shaded, which definitely helps. But even there the heat builds quickly. Otherwise, most of the shops and food are outside.
You can try to nab a spot inside at Docking Bay 7, but on hot days it's every Jedi for themselves. When I was there, there was zero room inside and multiple parties waiting for people to leave to grab a seat.
Your best option during a heatwave at Galaxy's Edge is to ride Smuggler's Run, where every line is almost entirely indoors and well air-conditioned, plus the pre-show, loading, and ride itself. And, I mean, you get to fly the Millennium Falcon. Not sure what the problem is here.
You can also get a quick hit of AC at the Droid Depot or Dok Ondar's Den of Antiguiqites, aka the place where you spend all of your money on lightsabers.
If you somehow get a reservation to Oga's Cantina, good on you. You may end up standing, but whatever. The walk-up list was really tough when I was there, so try for reservations, but lately you've had to jump on right when they open up to have any chance at a spot.
All in all, Galaxy's Edge is best saved for a night visit when the heat hits Disneyland.
Fantasyland is hell
Don't go there when it's hot, just don't. Don't get lured by, "oh, well there are a lot of dark rides." No. Just stop.
If there is a single nexus in all of Disneyland resort that absorbs heat, this is it.
And each ride is what, 2-3 minutes at best?
Peter Pan's Flight is a classic and a great ride. The line is rarely below 30 minutes, and it always sucks. It's crowded and hot no matter when you go, and there may be no other line at DLR where you experience that magic feeling of: "oh once I turn this corner I think I'll be right over there—ope, nope, like 10 more switchbacks to go through here … and then 15 more … and followed by 70 more. PAAAAN!"
So the best ride in Fantasyland has a terrible line, every ride is short, and when it's pushing anything over 90° your eyes melt.
The one thing you'll see here is the Sleeping Beauty Castle Walkthrough on a lot of cooldown lists—the thing is, when it's hot-hot, like anything in the 90s, it still gets warm in there. The A/C is not that great. It does get slightly cooler and gets you out of the sun, so maybe bring a fan in with you if you decide to go through.
But really your best bet for an actual blast of A/C in Fantasyland is the small Bippidi Boppodi princess merch shop, tucked away just next to the Castle Walkthrough entrance. It has real A/C—you just need to, you know, at least act like you have a reason to be a 41-year-old dude with a beer belly walking in there.
"it's a small world" — only if the line is short or with Genie+
Yes, Disney formats the name of this ride inside quotation marks and all lowercase. I didn't realize that part of writing this post would be so painful.
This is another one that makes it on a ton of cooldown lists. And I see why: it's cold, restful, and lasts 15 minutes.
But Anyone who enters this line when it's over 20 minutes is probably already a little screwy. Doing anything more than 5 minutes in the heat is downright psychopathic.
It's a long walk to the very edge of the park, and if the line is long at all it's brutal, with multiple switchbacks and very little shade.
When I was there it was so hot that numerous rides simply just stopped working. Small World was one of them (plus they probably were crushing the power grid with it), so Genie+ times stretched way out into the evening.
But on an earlier day during the week, it was super quiet and we basically walked on. Watch the time to drop to 5 minutes, otherwise try for a Genie+ or just stick to some other attractions until it cools off.
The courtyard outside Space Mountain's entrance
This may be the best place to cool down in all of Disneyland Park. It's big, never too crowded, and plenty cool, even if not as ice-cold as some spots.
My phone read 103° when we popped in here, and it felt great. We easily grabbed a booth, set up some fans, and were good to go. Even if the tables are full, it's a fine place to just sit around on walls or on the ground. Take your damn time, there's no rush here.
The Stand-by line for Space Mountain, however, is f@$#ing awful if it even hits the high 70s, let alone 90s or above.
Alien Pizza Planet
This might be the second-best overall spot for cooling down in Disneyland. People start lining up right when it opens at 10:30 a.m., especially when it's hot. I was there right at 10:30 and there were plenty of spots for everyone.
So rope drop with a light breakfast and knock out your Frontierland or your Fantasyland, and then put in your mobile order at Pizza Planet and go get in line around 10:25 or so. Then sit in the ice-cold dining room—or, sit in the Space Mountain courtyard and put in your mobile order from there.
This is also an excellent place to load up on ice. Load up everything you own with it, including your shorts.
Avoid Autopia at all costs
I mean, you already knew that, but why would you ever do this when it's hot?
Finding Nemo Submarine Voyage
If the line is 20 minutes or less then you're in the shade, which is tolerable if you're at least to the edges of the hottest part of the day. And you're rewarded with nearly 14 minutes of underwater coolness.
Anything over that can get risky.
Star Tours — if it's 15 minutes or less
I remember the days of inching forward in this line, standing in the same spot for 10-20 minutes, taking at least 90 minutes to get through.
Today, the Star Tours wait rarely gets over 30 minutes, even on busier days.
But in the heat, look for 15 minutes or less in Stand-by, which you will likely get at some point. That means your wait outside is minimal.
Plus, as always: Star Wars.
Great Moments with Mr. Lincoln
I'll sit through 15 minutes of great moments with a razor blade to my skin if it has air-conditioning like this.
During a heatwave, this is probably the most reliable place to pop in and cool the eff down. You can do the 15-minute show and sit for a bit, or just look around the lobby and find a seat. Most recently, they've had a Haunted Mansion art display.
This one saved my butt when it hit 108°.
Other spots to escape the heat in Disneyland
For the most part, if you just need some relief you can pop into any enclosed store or eatery and get a little dose of AC.
Usually, the Emporium on Main Street is where I thought I'd escape—but when the heat was at it's highest, it was still pretty darn warm in there.
Main Street Cinema is another excellent choice to get some quick relief, plus you need to stop in here at least once on every trip.
Otherwise, there are many shady spots to stop and chill as needed—besides, once again, Fantasyland. Avoid the middle of the park if you can.
You can also try the Disneyland Railroad to at least save your legs a bit of walking and get a breeze going, but there's no A/C on that thing.
General tips for not burning to a crisp during a heatwave at Disneyland Resort
Let's make one thing clear: Even if you do every damn thing on this list, your ass is gonna be sweatin'. There's only so much you can do and it stinks.
But with that said, a few random tips that worked for me at a time when it ranged from 93° to 108° for daily highs:
Maximize morning and night, and consider a long break
Taking a break from Disneyland or California Adventure sucks, and in general I think it's a stupid idea. I don't even like to go to Downtown Disney if I have a park ticket that day. But if the temp is approaching three digits, you have to consider it.
In the most ideal of worlds, you'd be able to get up early, even if not rope dropping at least close to it, and get in at least a couple of good hours when lines and temps aren't too bad.
Then maybe grab lunch and take it back to the hotel, crank the A/C, and just chill for like 3 or 4 hours.
Around 5 p.m. is when I noticed a clear change in the air each night, and the temperature finally started to dip. It gives you a second wind and, depending on what time of year it is, you should still have plenty of park time left.
Save the heavy walking for night, and in general invest in nighttime as your main time of day to go nuts.
Monorails SHUT DOWN
This was news to me, but apparently the monorails do NOT currently have air conditioning, and thus they won't even run when it gets too hot. Take that into consideration if you're staying at Disneyland Hotel and were going to use that bad boy. That's a long and hot walk to the park.
Wet towels and neck coolers
You'll see stuff about these dumb things all over the internet, whether it's for the heat at Disney or anywhere else.
All they basically are is towels or rags that kind of stay wet for a while. You can bring your own if you want. The material they're made of sort of stays damp without dripping too much, but who cares.
That said, it does help. You'll need to keep wetting it down, but you can use bathrooms or whatever to do so.
Handheld fans
I bought a couple of rechargeable handheld fans on Amazon before the trip, and while any of them are fine, this one worked great for me. They're not too expensive so get one for everyone in your party.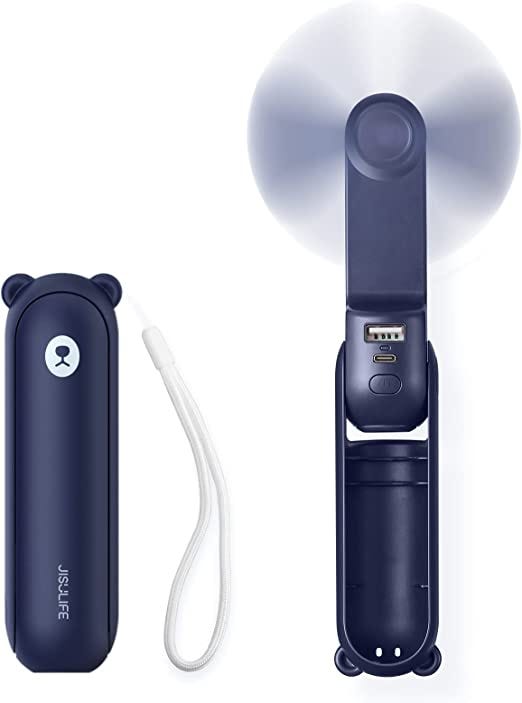 I charged it before I left and never had to recharge once. They really do help and you can stash it in your pocket or the ride pouch once you're getting into an attraction.
ICE IN HAT
I don't use the term "genius" very often, but putting a few ice cubes in my hat and then putting that sucker on my head is by far one of the smartest moments in my life.
This really does feel incredible, and if it's not too scorching you can use just a few ice cubes and it will last for a decent amount of time. It also sends signals throughout your body that you're not actually dying and may just live to get that next churro.
I used a running hat with soft material—also go with a white hat if you can to reflect the sun.
Fans + neck cooler + ice
This is the way.
This really probably helped each of us the most. You can also mist yourself down and fan down your arms, neck, and face. Throw some ice into the neck towel or your hat or anywhere on your body, and get ready for a party in your nervous system.
Really a combo, whichever works for you, of any of this stuff is your best bet.
Ice, ice, baby
Speaking of ice, it can be a little hard to come by. Refill ice in every type of container you have whenever you can at the spots I mentioned above. Remember that you can ask for a cup of ice at any quick-service restaurant as well.
You can also freeze water bottles overnight, but frankly, they'll melt quickly. Bring a soft-sided cooler to help keep things cold for as long as you can, but you'll need to accept it won't last that long when it's very hot, and just keep refilling your ice reserves.
Spray bottle
Just bring a big spray bottle from the dollar store and go nuts with it. It helps with everything else. You can get the misting fans that the park sells, but they're really only good for spraying water. Which, if you didn't bring one, go ahead and shell out the $20 for it. Just do it early in the trip.
Consider a single park ticket over Park Hopper
Normally I'll run up and down the parks with a Park Hopper based on attraction times and trends. I don't even care.
But when it's hot, you need to conserve energy or you will bonk out. Consider a single park ticket so you aren't tempted to walk from Cars Land to Galaxy's Edge when it's 99° just because Rise has a low wait time.
At the very least, try to spend time jumping from cooldown to cooldown within the same lands. Have 30 minutes until your Lightning Lane at Guardians? Instead of running to Radiator Racers for Single Rider real quick, hit the Avengers Super Store instead.
UV umbrellas? Meh
I saw these all over the internet basically saying it would save your life in a heatwave at DLR.
Meh.
We got one, I sort of used it, but when it was anything above 95° it really just didn't make a difference. I mean, I'm sure there were fewer UVs hitting us, which is good, but holding the damn thing just got annoying.
Unless you're a parasol person, you can skip this.
Running shorts and Gold Bond powder
I don't give a crrrraaaaapppp what you think about me — this helps.
I wore running shorts for much of my stay, and was glad to not bother with an extra layer in my under-parts. Dust some Gold Bond powder in there and you'll avoid chafing, plus get that nice menthol feeling.
Look, I know the word "chafing" is awful, but it's a real concern when it's that hot.
Hotels
Think hard about where you're staying. Grand Californian because you're a rich bastard? Hell yeah, do it!
Otherwise, you may as well hit a good neighbor hotel across the street, and think about which one. Disneyland Hotel is actually a further walk, and remember: the monorails will shut down if it gets too hot.
We found a last-minute reservation at Park Vue Inn. It's no-frills, but it's about as close as walking into Downtown Disney (but do note that there are no elevators).
The Tropicana and Camelot Inn are also good picks.
Lots of sunblock
I mean, duh. But I remember days I've gone to Disneyland at other times of the year and never even thought to put on sunblock. Try for every 2 hours.
Frozen bananas and frozen treats
This is the one time you can get a frozen chocolate banana and it will start thawing out before you break a tooth on it. It's also a great excuse to get down on some ice cream, and it seriously does help.
Electrolytes
Coming from high altitude and running marathons, I'm well acquainted with getting dehydrated. Electrolytes really help you to feel mentally OK when you're shedding sweat in the heat.
You can get a fizzy drink, like Nuun, or pills.
Take 'em about every hour or two during the hottest parts of the day.
Insulated water bottles
I used a couple of Contigo water bottles. Take your pick, just make sure you have at least one insulated bottle for everyone in your party.
Beyond that, keep all water on hand and don't hesitate to buy a cold bottle if you need it. You can always refill your reusable one later—and the plastic one. Even if the water's warm, you can use it to douse your neck towel quickly or dump on your child for being annoying.
Hey, it's still Disney
Will you still enjoy your trip if the heat kicks it into high gear? Yes, of course you will. It's Disney.
Just be prepared for what awaits you and commit fully. You'll have plenty of new memories.
You will suffer, oh god yes will you suffer, but you'll have many great moments too.