Disney
Obscure facts about Disneyland Resort to annoy your family with next time you visit
The smell of fresh churros in the air, thinking about the jokes you'd make if you were the captain of a boat on Jungle Cruise, and parents who finally crack and threaten to never go again—that's right, it's Disneyland!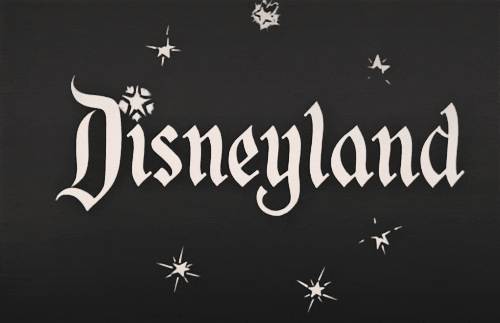 The self-proclaimed Happiest Place on Earth—despite the fact that it really does bring every family to the brink of chaos at some point—generally lives up to that moniker. I mean, it really is magic.
And with the opening of Galaxy's Edge? **chef's kiss**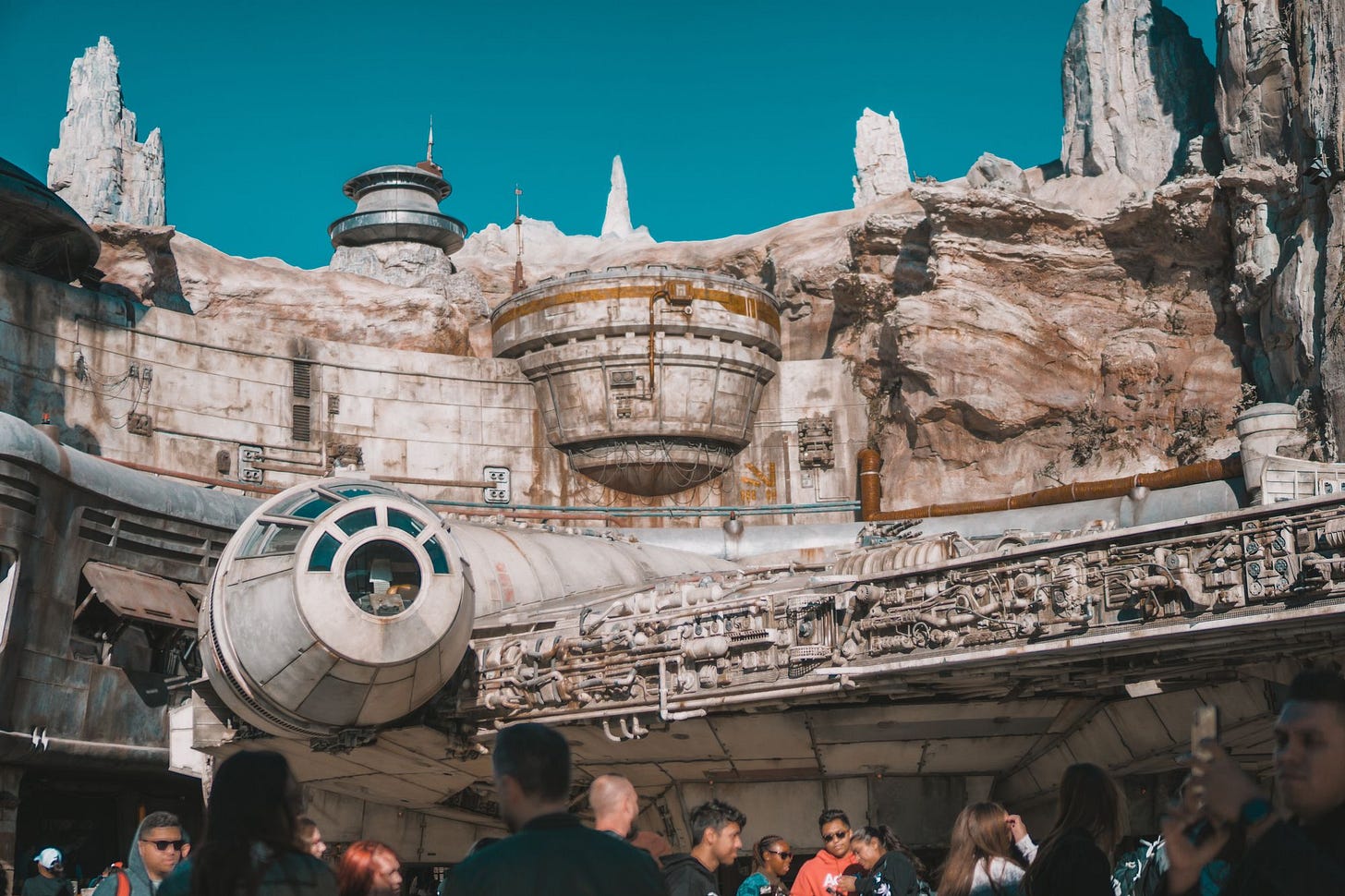 It's hard to beat a trip to Disneyland, but one of the things that makes it a little better is being able to annoy your family at every opportunity, whether standing in line for Space Mountain or grabbing a burger from Galactic Grill.
And having made a recent trip with the fam myself, I can speak from experience that there are some obnoxiously obscure facts about the world's quintessential theme park that you'll definitely want to have on hand for your next trip to Anaheim. (Shoutout to my brother for putting together family bingo!)
Here are some of the most obscure facts about Disneyland you can annoy your family with on your next magical journey.
Park names and acronyms
Want to really tick off your kids? Start rambling on about DLR, DCA, and Disneyland Park.
You see, Disneyland was indeed the name of the park when it opened. But back then you just had to drive your giant car that had no seatbelts and block the highway waiting in line to get in. Now you can take your pick of three on-site hotels, plus a plethora of neighboring accommodations.
Not to mention the shopping and dining district collectively known as Downtown Disney, where you can score extra points by making your family wait an hour and a half to eat some pizza instead of just eating inside the park.
Oh, and lest we forget Disney California Adventure Park, aka California Adventure, aka DCA, which opened its doors in 2001 but honestly wasn't that cool until Cars Land opened. Which is ironic because it used to literally be land for cars as the site of the original parking lot.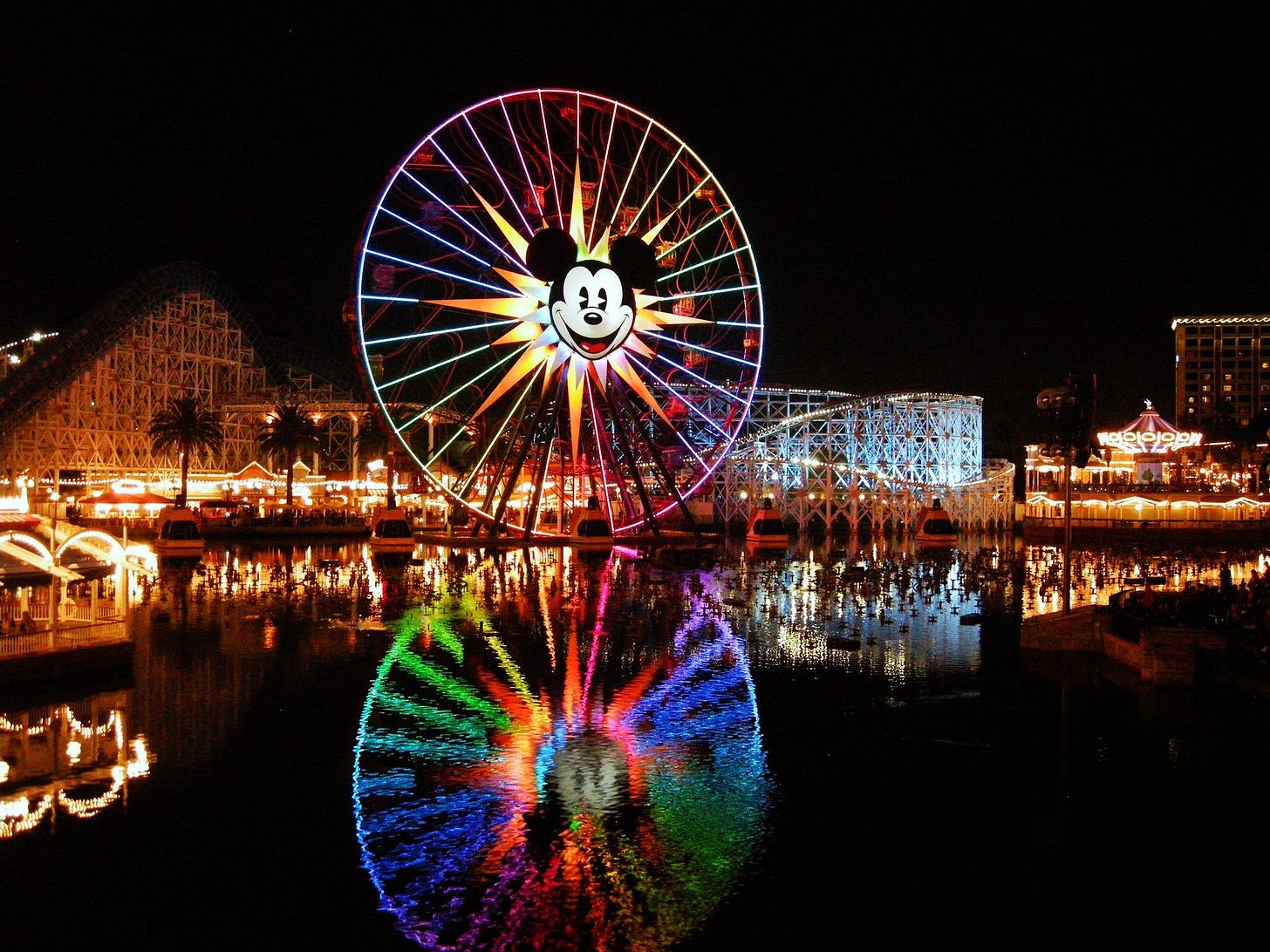 So we're talking two theme parks, three hotels, and an entire dining and shopping district. "Disneyland" was no longer inclusive enough for all of these magical choices, so sometime in the late '90s the term Disneyland Resort, or DLR, was coined to encompass the entirety of the Disney properties.
Which meant that to avoid confusion, Disnelyand was officially renamed Disneyland Park—because clearly if you say you're going to Disneyland, people look at you in astonishment and ask, "DO YOU MEAN DISNEYLAND PARK OR RESORT???"
To recap:
Disneyland Park aka Disneyland == the O.G. theme park.
Disney California Adventure aka DCA == an entirely separate park across from Disneyland where Avengers Campus and Cars Land are located.
Disneyland Resort aka DLR == The umbrella term for any and all of the Disney properties off Harbor Blvd. in Anaheim.
The two-toned lightbulb
The thing about Disneyland is that it creates order out of chaos; magic out of mayhem; churros out of despair.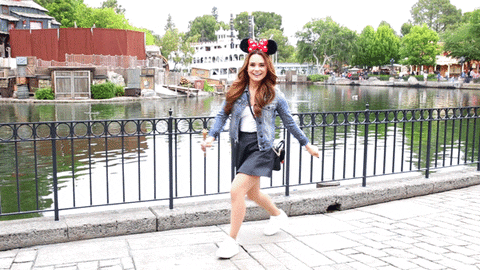 But there is one nexus where this order comes to an enthralling and mysterious point; where reality borders precariously at the cusp of madness.
That's right, Refreshment Corner.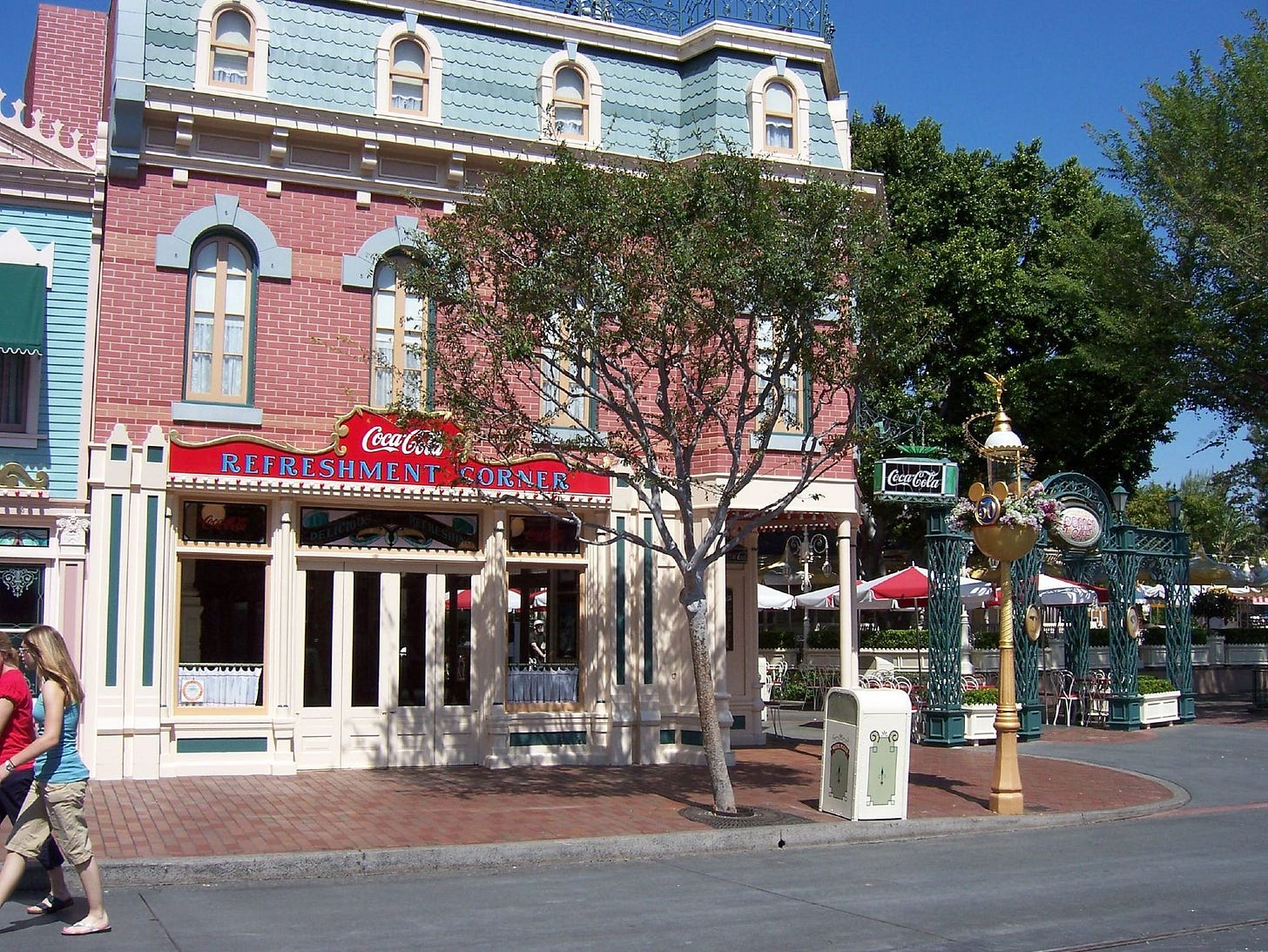 Legend goes that a pleasant, orderly pattern of alternating red and white lightbulbs were being installed at this literal corner entrance to all things refreshingly Main Street USA, when it was discovered that there were an odd number of lightbulbs.
What to do?? Have two white bulbs to each other? Two reds? Plan ahead better?
Heyall nah. This is DISNEY we're talking about.
The rumor is that Walt himself solved the conundrum by suggesting a single bulb painted equally red and white to maintain the pattern, thus staving off a quick descent into panic.
You can see it below just behind and to the left of that Coca-Cola light fixture.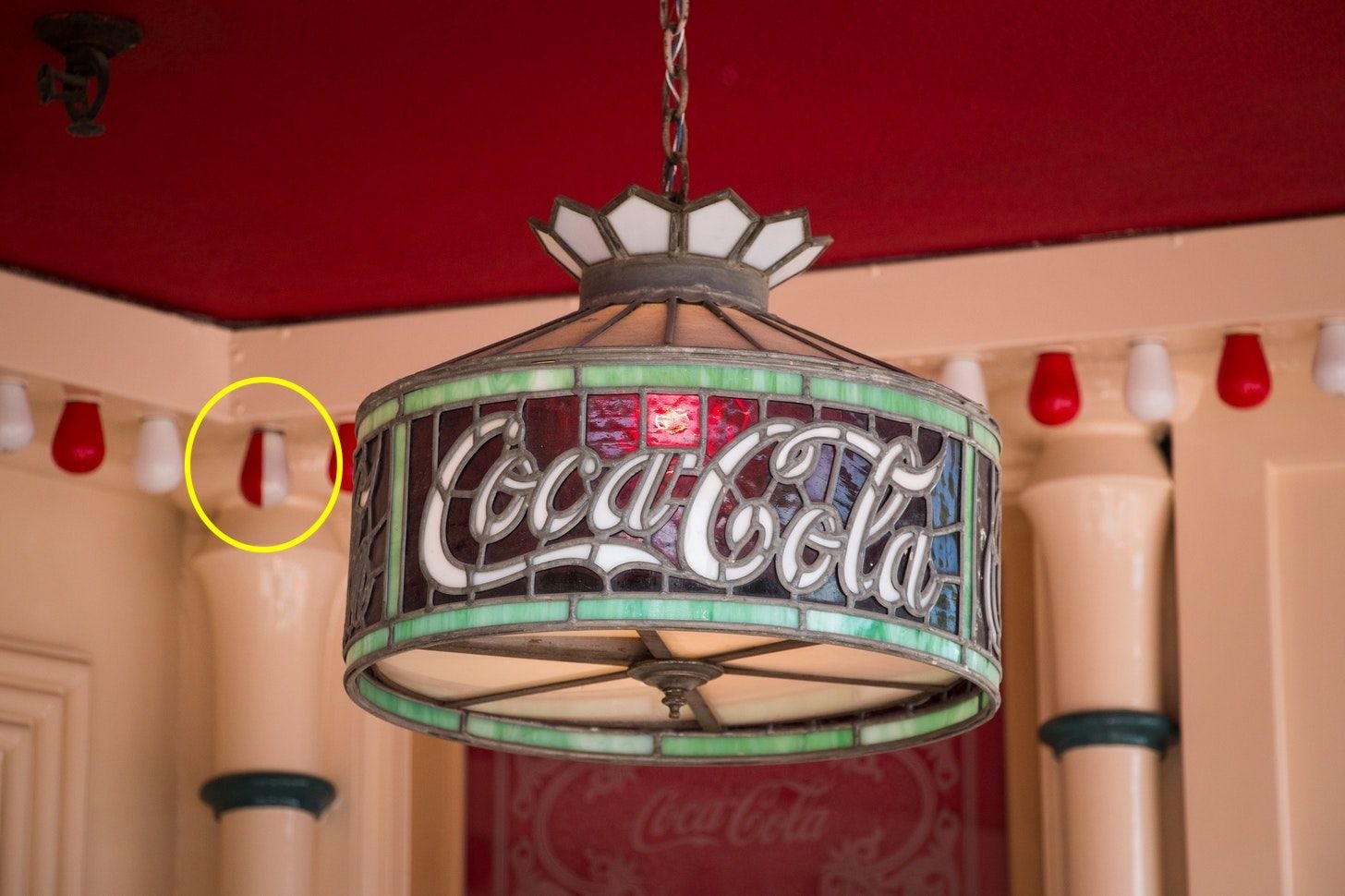 Earn bonus points by stopping your entire party and talking for as long as you can about the bulb while everyone else is ready to go ride Indiana Jones and wait times are going up.
Walt's lamp
One of the reasons Walt Disney made such amazing parks is because he spent a lot of time at them, personally experiencing everything (including waiting in lines), talking with guests openly and honestly to get feedback.
He also had a private apartment built over Main Street USA during construction to, you know, pressure the hell out of all the workers. It's said that over the years he would stay there, work, and observe. And whenever he was at the park, he would turn on the little lamp in the window of this apartment. It became a way for cast members to know that Walt was around.
Today, the lamp is always kept on as a tribute to Walt Disney, as if he is always with the park. Either that or his spirit is tied to it because of some terrible secret that only his greedy business partner knows. Anyone's guess!
You can spot the lamp in the window of Walt's apartment above the easy-to-overlook Main Street Firehouse just to the left of the Main Street Plaza as you enter the park.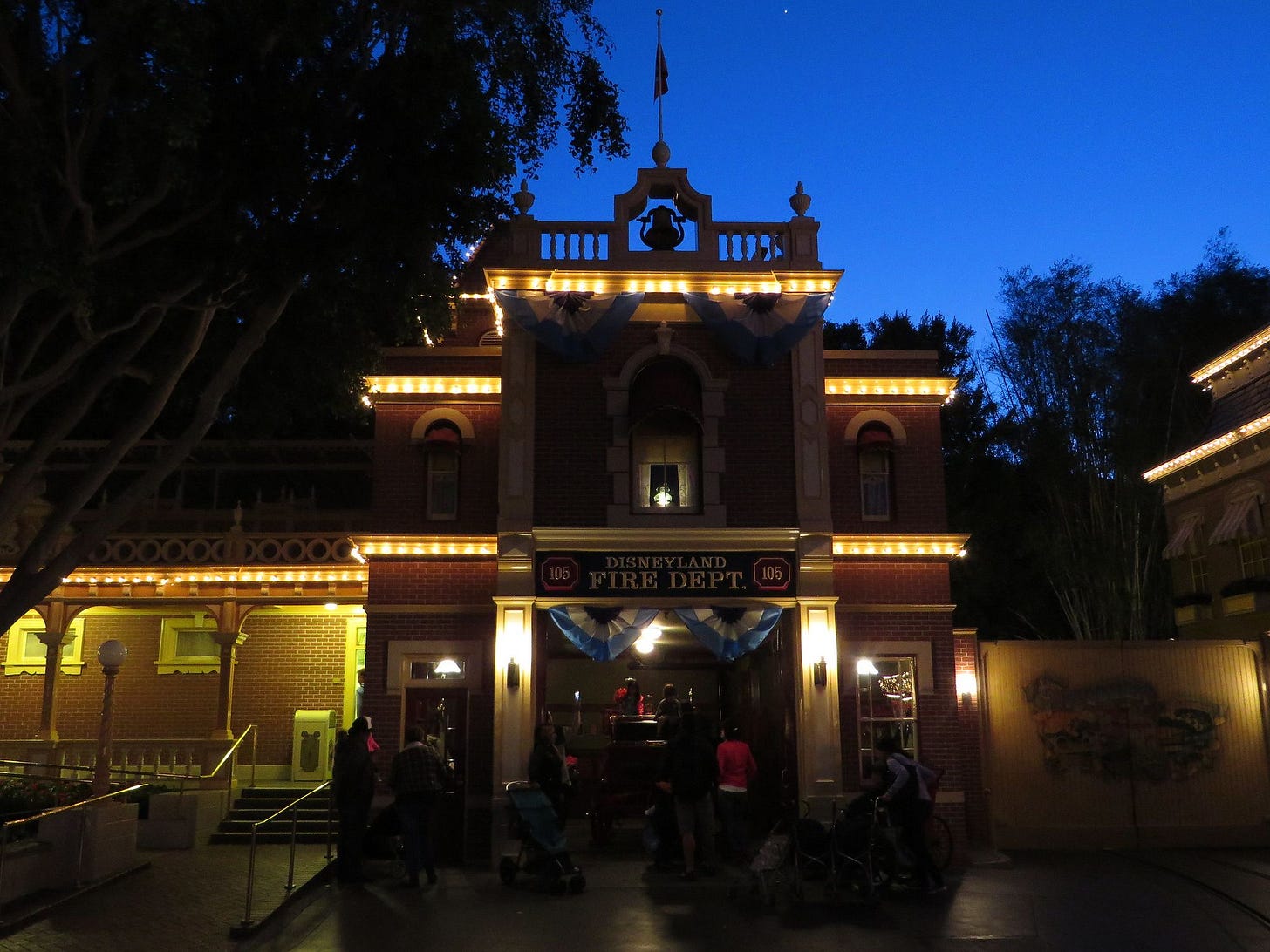 Bonus: See that trash can to the left of the firehouse? Those are the best bathrooms for, uh, when you need to take a little bit longer of a bathroom break, if you catch my drift. Because of the location, they're generally less busy and cleaner than the highly-trafficked restrooms elsewhere. For utmost efficiency, time your potty break with when you're ready to walk over to DCA.
Guardians of the Galaxy - Mission: BREAKOUT!'s spooky past
Clearly, it's not very obscure to know that the Guardians of the Galaxy ride at California Adventure used to be Anaheim's version of the all-time classic, Twilight Zone Tower of Terror.
But while it might have felt a little hasty, the "hey we just bought Marvel so get a damn ride somewhere using the franchise" re-skinning of this ride is deeper than you might think.
As noted by Imagineers in Behind the Attraction, Mission: BREAKOUT! (and yes, I will always write that with ALL CAPS and an exclamation point) the physics of the ride were actually tweaked in order to make it feel different from Tower of Terror, even though they're essentially using the exact same mechanics.
They accomplished this by making the hover time in between zipping uuuuupppp and dddddooooown a bit longer. To misquote the Imagineers, it's more of a "wheeee" fun kind of scream, as opposed to a "no-no-no-no-no!" scared kind of scream.
There was also quite a bit of thought put into how the ride would be synced with the attraction's killer soundtrack. Imagineers rode it repeatedly with headphones, testing out songs and making notes on timing, while at some point I'm assuming puking all over one another.
Eventually, they landed on six songs, which equates to six unique versions of the ride. But Born to Be Wild is the best version, and anyone who disagrees deserves to be permanently banned from Disneyland for life.
A haunted "mansion"
Want to ruin one of the most beloved Disney attractions of all time for everyone in your party? Now's your chance!
One of the most beloved Disney attractions anywhere in the world, the Haunted Mansion has been getting parents to say "no, trust me, it's actually not scary" since 1969. And if you've ever looked at the exterior and thought, it's crazy how they fit the whole ride in there, you're not alone.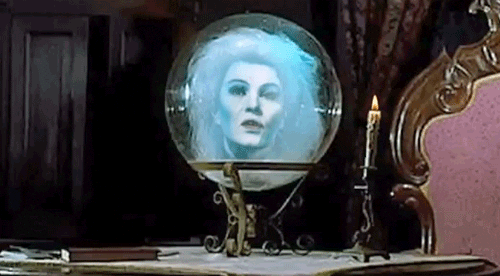 The truth is that they didn't fit the ride inside that building. In fact, when you're riding along in your Doom Buggie you're not even within the boundaries of Disneyland Park.
I'll wait while your mind recovers from being blown.
You know the room where it appears the pictures on the wall grow and the ceiling gets further away from you? It's actually a big elevator, and you're going down. Then as you walk through the portrait gallery to board your buggie, you're actually walking through an underground tunnel into what is essentially a giant warehouse that houses the attraction.
As with all things Disney, they do a pretty great job disguising the magic. But if you are just itching to see what the warehouse looks like, you can actually see it on Google Earth. Spoiler alert: it looks like, well, a big warehouse.
Droid tracks in Galaxy's Edge
There is A LOT to unpack in Galaxy's Edge, and I anticipate we'll be finding new Easter eggs for a long time to come there, but here's an easy one that is also useful for annoying your children.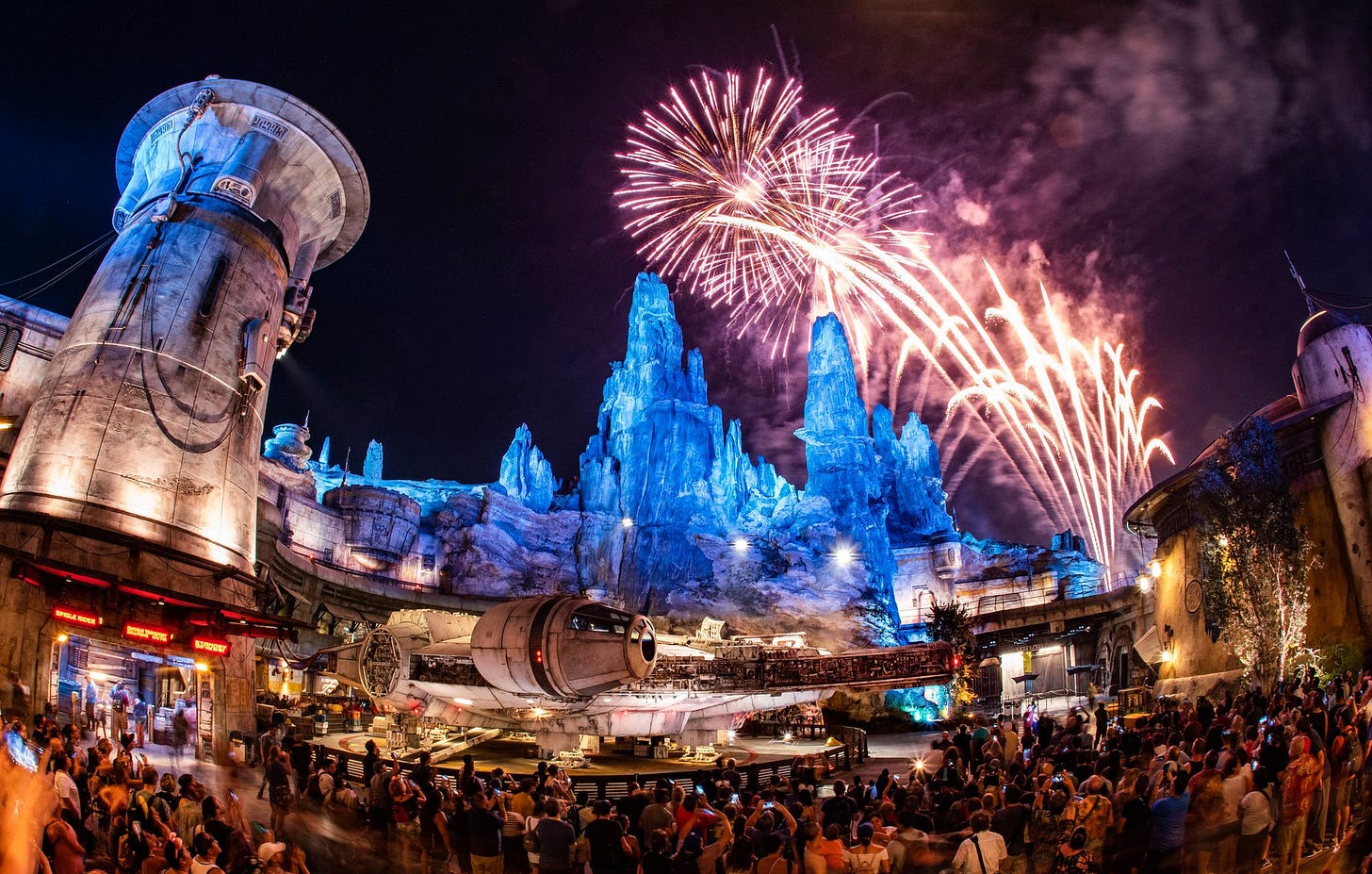 In line at Rise of the Resistance (which is like, 90% of most Disney trips right now), grabbing some blue milk, or simply exploring Batuu, look at the ground and you'll see treadmarks. Those are actually droid tracks—and what's even cooler is that Imagineers used the original droids from the movies to make those tracks as they were constructing Galaxy's Edge.
That's right, those tracks were created using rubbings from the actual droids built in 1977. Kudos to you if you can actually spot which droids they're from, but we simply don't have the patience to go into that here…
The number 33
Up until very recently, there was only one place you could consume alcohol inside Disneyland Park. No, not from a flask while singing yo-ho on Pirates of the Carribbean, but instead inside the exclusive, mythical private club and lounge located above the French Market and Cafe Orleans in New Orleans Square.
Club 33 has reportedly hosted everyone from top-level executives to famous movie stars to heads of state, all of whom undoubtedly hoisted cocktails and shouted "take that plebians!" to the throngs in the square below.
Membership to the club is nearly impossibly, with the list closing for years at a tie, and it takes a lengthy application process. Oh, and last we heard it costs at least $25,000 for your first year with yearly dues of $10,000.
But when you walk past that door with the number 33, located across from the La Mascarade d'Orleans shop, you can imagine all the richie riches up those stairs riching it up. Be sure to remind your family of this place when you grab those beignets.
Opening day do-over
Those Disney folks have always been quite savvy, and that included a pretty clever idea to finance the building of Disneyland, which ended up going about three times over its original budget.
The pitch went to ABC, which at the time wasn't the national force it is today, to provide much of the funding to build the park. In exchange, they'd recieve exclusive content on the building of Disneyland as well as an exclusive live broadcast for the park's opening day in 1955.
It was a win-win as Disney got to promote the park while financing it, and ABC received content that would greatly expand it's national audience, culminating in the live broadcast of opening day on July 17, 1955, which brought in an estimated 90 million viewers. 90 million! In 1955, that would account for nearly 53% of the population of America.
But about that opening day … what was supposed to be a carefully crafted reveal of the park became so bad that Walt and his homies would ultimately refer to it as Black Sunday, and instead count the next day, July 18, as opening day in the most epic do-over ever.
Anaheim experienced unusually hot temperatures on July 17 pushing 100 degrees, and with much of the ashphalt still being relatively freshly poured, many women reported that their heels were literally sinking into the ground.
Additionally, since we didn't have smartphones back then nor the friendly gate staff that take your picture when you enter the park (while everyone who already had their picture taken stands behind you muttering "oh come on") thousands upon thousands of counterfiet tickets were made, and apparently the best way to handle that problem was for the Disneyland staff to shrug and just let everyone in.
But in times of crisis, true leadership shines—and Walt found himself making one of the most difficult decisions of his career: due to plumbing labor issues, Walt had to choose whether to have working toilets or water fountains for the scorching opening day. He chose toilets. Which in retrospect actually seems like the obvious choice. That wouldn't keep the mouse-critics from accusing him of drumming the whole thing up to sell more soda, though.
And there were a litany of issues with the live broadcast, from multiple miscues, late guests due to the highway congestion around the park, and a possibly innebrated actor and guest kissing one of the background dancers on camera.
So the next day, sans live broadcast, Walt and co. did the whole thing again, and this time everything went much smoother.
And despite the difficulties of the day, Walt's speech from that day remains one of the best speeches probably ever made by a public figure, and will inspire you to book your next trip if you haven't already:
To all who come to this happy place: welcome. Disneyland is your land. Here age relives fond memories of the past … and here youth may savor the challenge and promise of the future. Disneyland is dedicated to the ideals, the dreams and the hard facts that have created America … with the hope that it will be a source of joy and inspiration to all the world.
Well said, Walt.
Now memorize that speech and repeat it to your family every time you walk into the park.