Disney
The top 5 old-school rides at Disneyland — ranked
Walt Disney sure seemed like a cool dude, but frankly, I don't think I'd want him to be my boss.
For starters, he was never satisfied. He was famously quoted as saying, "Disneyland will never be completed. It will continue to grow as long as there is imagination left in the world."
Well if I worked in the marketing department at Disneyland, I'd be arguing that imagination is dead forever, because damn, you never get to take a break!
But if you're a park visitor, it's pretty cool. Galaxy's Edge, Indiana Jones Adventure, the upcoming Mickey & Minnie's Runaway Railway — none of those would be possible without that constant commitment to creation and imagination.
Yet even with the only constant being change, there are those rides which have withstood the test of time. These are the rides you still find time to ride on every visit, that have been ridden through the generations, and that would spark outrage and widespread rioting if Disney ever dared to touch them—and sadly, at least one ride that you simply can't experience anymore. Jerks.
Someday maybe we'll make a list of the worst old-school rides at Disneyland, although it kind of seems like a waste of time since we all know Autopia would top the list and also fill in every other spot.
And a quick note — when I say "old school", I really mean it. We're talking rides that were opened in the 1960s or 1950s only. Anything else is essentially newfangled hogwash.
Here are the top five old-school rides at Disneyland, ranked.
5. Alice in Wonderland
While not one of the founding rides, Alice in Wonderland was still one of the earliest dark rides at Disneyland, originally opening in June of 1958.
Imagineers essentially tacked the structure for the ride onto the back of Peter Pan's Flight, which is why it's almost easy to forget it's even there — and why the nearby Wonderland-themed restrooms, officially dubbed King & Queen restrooms, are usually a less-crowded choice for bathroom breaks.
Like much of Fantasyland, this attraction underwent a significant overhaul in 1983, allowing imagineers to bring it closer to the original vision. Limited by technology at the time, the original attraction blatantly contradicted the animated movie in some spots and was missing key elements from the film. And those film tie-ins are a major reason why Disneyland became so popular in the first place — and why its magic has endured to this day.
What I really like about Alice in Wonderland is just how well it captures the imagination and creativity of the film. It's truly a trippy ride through Wonderland that transports you completely, even though it's also one of the few rides to move you both inside and outside. That spirit of wonder was inherent in the original and carries through as you ride in the same caterpillar cars that guests rode back in 1958.
It's not the longest ride, not an original, and not one of the things that's on everyone's to-do list, but this is a great ride that embodies the founding spirit of Disneyland and Disney's classic animated films.
4. Jungle Cruise
If you get a job as a skipper on Jungle Cruise, I wonder how many times you end up saying "the backside of water."
A foundational piece of Disneyland Park, Jungle Cruise was one of the core attractions from the very inception of the park. Originally called Jungle River Cruise (to differentiate it from non-river jungle cruises, I guess), Walt actually envisioned live animals for the attraction. Thankfully that didn't happen, giving us a cruise that remains largely unchanged in theme or story over the years.
Set in a British colony in the late 1930s, there's not really a strong story arc here, but somehow there is a story told. The old-timey jazz music, the collection of insects — right from the beginning, these details were creating magic at Disneyland, setting it apart from any other theme park at the time.
The puns, however, were an evolution. Originally, it was more like sitting through a nature documentary, with skippers reciting factoids about the animals and plant life, which sounds stupid.
If for some reason you do want to change it up a bit, try riding Jungle Cruise at night. The use of darkness adds an entirely new element.
3. PeopleMover
This is one of those times I wish I could be in the room when something was pitched. It must have been similar to Jerry and George pitching a show about nothing when someone pitched the idea for a ride that moves people.
Yet PeopleMover remains one of the most beloved old-school attractions at Disneyland, opening in 1967 in Tomorrowland. Sadly, it closed in 1995, which may be why it carries so much nostalgia to this day. You can ride a version at Disney World, but it's just not the same.
However, the platform and track infrastructure still exist, leading millions of bloggers to speculate whether it will come back at every D23 event.
PeopleMover never stopped moving, even without people inside. Which I guess would just make it a mover at that point. It would move you above the throngs below in Tomorrowland, pointing out attractions and doling out factoids on speakers installed in each car. I also remember going through one room that was Tron-themed at some point as a child, so there's that.
It was the perfect attraction for a quick rest that never really had a line. It was also one of the places where Disney loved to sellout, getting sponsors like Goodyear for much of its lifespan.
I'm still holding out hope PeopleMover will come back someday soon. I just want to be moved while chomping on a churro. Is that so much to ask?
2. Peter Pan's Flight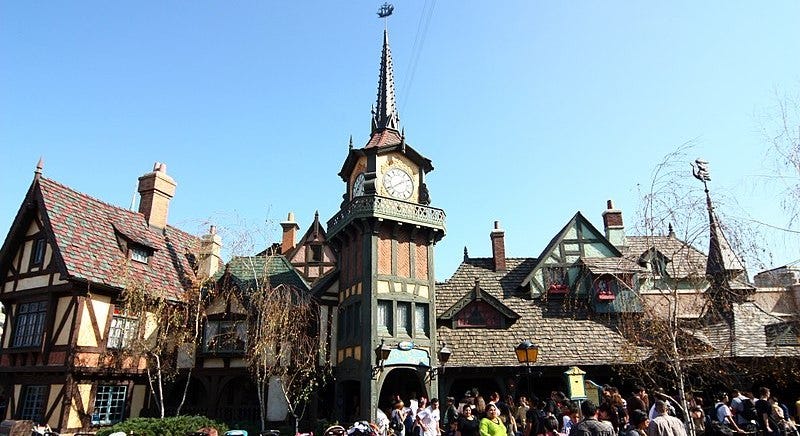 Of course, when I was 12 and came back I realized I was really dumb when I was 4. But the effect is still so damn cool as you buzz over London and visit some of the most meaningful spots from the 1953 animated feature.
Peter Pan's Flight was one of the opening day dark rides in Fantasyland in 1955, and while the London scene was a major addition and other updates are made fairly regularly, it still maintains the original vibe and intention.
The one downside is it's still so popular that the line always, always, always sucks. When I make a list of attractions that trick you into thinking you're a lot closer than you are to the front but then you turn a corner and there's like 100 more zig-zags to go through, this would be number 1.
But whatever, just rope-drop it or suck it up and know what you're in for. It's worth the wait for that hit of pixie dust.
1. The Haunted Mansion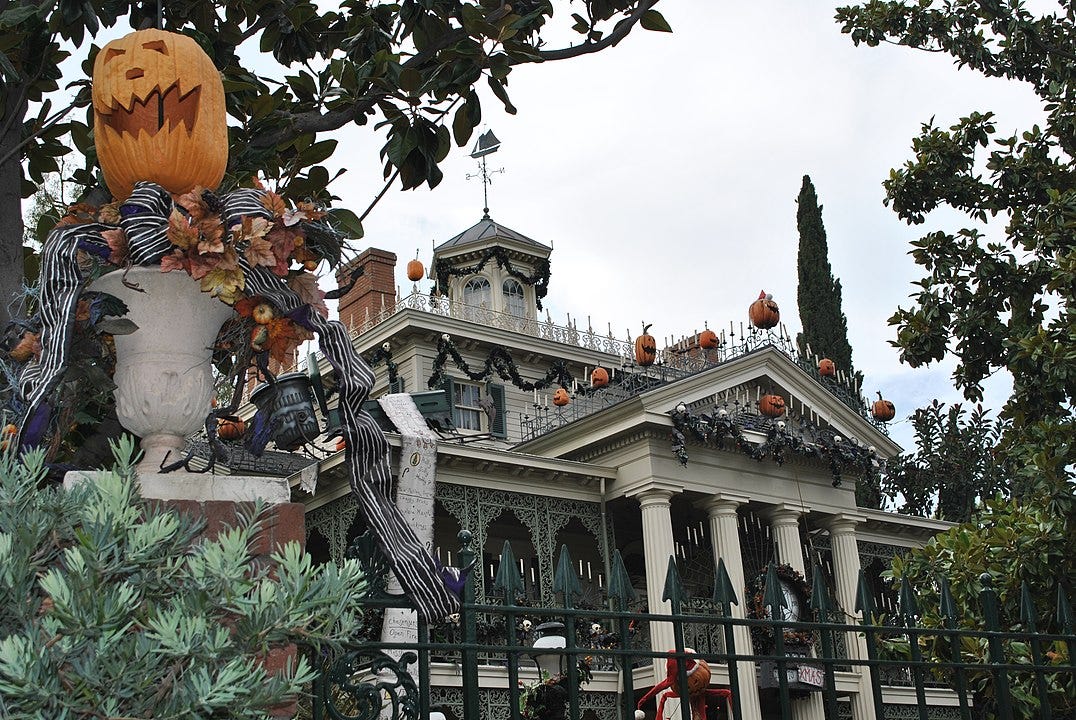 While The Haunted Mansion juuuuust squeaks in using our criteria, the concept for this iconic attraction actually predates Disneyland itself.
As early as 1951, concepts show a mansion-like house next to a graveyard. And this was when they were thinking of putting it in the park across the street from Disney's studios. By 1961, guests were being told, "Oh yeah, that new haunted thingy will open by '63." Yet it wasn't until after Walt's death that his vision was realized, finally opening as The Haunted Mansion in 1969.
As you move by what can only be paranormal means in your Doom Buggy, there's no single discernible story here, but instead what feels like hundreds of them. There's always something new to discover, no matter how many times you've ridden it. Even the queue offers witty gravestones, and no detail is left unfilled.
The recent-ish addition of Haunted Mansion Holiday is a fun reskinning that's themed around TheNightmare Before Christmas. Although, with this theme stretching from September into January, that's a long time where I can't get me some Grim Grinning Ghosts.
In addition to being a killer ride (get it?), The Haunted Mansion has also become it's own brand, its own "thing," its own je ne sais quoi 🤌🏼
The Haunted Mansion was part of Walt's original vision for Disneyland, offering something that's about ghosts and murderers while still making it fun for the whole family. While there are a lot of attractions and experiences that will take you right back to opening day of 1955, this one is the best of them all.
And if you disagree with me I'll send a ghost home with you.